BUYING A HELICOPTER
How to find a reputable maintenance provider
Your maintainer will be your partner in ensuring your helicopter is safely maintained, meets all applicable maintenance regulations, and continues to run well when you need it.

By: HeliTraderPosted on: January 12, 2023
An exceptionally valuable step in the detailed process of finding and purchasing the ideal helicopter for your needs is identifying the right mechanic or maintenance facility to maintain your new arrival. Your maintainer will be your partner in ensuring your helicopter is safely maintained, meets all applicable maintenance regulations, and continues to run well when you need it.

There are several important factors to consider and some careful research to be done before choosing your maintainer, from researching the mechanic or facility's licenses and capabilities, to doing your own self-assessment of your budget and level of risk.
Know your budget
Before calling around to find a maintenance partner, it is best to first have a clear understanding of the true operating costs of your aircraft. When you have this information, you can better understand how the addition of maintenance provider costs will affect your budget, allowing you to budget accordingly.

"One of the biggest surprises for people new to helicopter ownership is the true operating cost of their aircraft," said Jeff Denomme, president of Alpine Aerotech in West Kelowna, B.C. "I think that's one thing that is drastically overlooked or understated. People are told a direct operating cost per hour, and they budget for that, but they haven't considered the running maintenance or calendar and inspection costs, or calendar items that are not necessarily considered in the direct hourly operating cost per se.

"So, for instance, if there's a five-year inspection required on an aircraft or component, and you're buying the aircraft in the fourth year, those costs coming up in the next year may not have been understood and can be a large and unexpected surprise," he added.

Having a cost analysis done for the aircraft as part of a thorough pre-purchase inspection is one way to have a clear idea of what the real hourly costs will be when adding in regular maintenance costs. Forecasting annual flight hours helps understand large capital items coming due and annual maintenance. It's important to understand these costs over the long term, rather than what is due one year at a time, Denomme noted
Know your risk
No, we're not talking about accident or incident risk tolerance. Any maintenance provider you choose should be dedicated to the utmost safety of your aircraft. The risk tolerance you need to consider is how much your aircraft being out of service will affect you. An EMS operator, for instance, cannot risk having aircraft down for long, and will need a 24/7 maintenance shop that can also make field calls. This low risk level requires a higher maintenance budget.

Private owners who use their helicopter for pleasure and rarely require it to be at the ready 24/7 can risk having their aircraft down for maintenance longer, or for unspecified amounts of time. Knowing this in advance will help you determine what kind of maintainer you may want to seek and how that affects your budget.

Pre-planned maintenance and scheduling is the key to success for the owner and the maintainer. Parts supply issues and shortages of experienced technicians in the industry make it that much more important to have a great relationship with your maintenance provider, Denomme emphasized.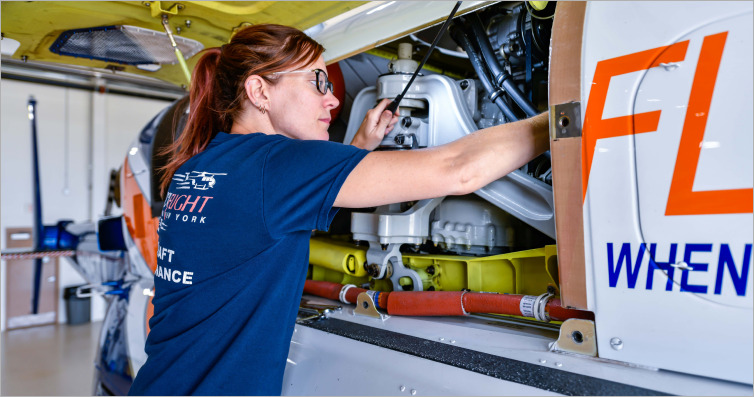 Mechanic or maintenance shop?
There are basically two directions you can go with finding a maintenance provider. One is having a specific mechanic who either comes to your hangar to do maintenance as needed, or runs a one-person maintenance business out of his or her own hangar. The other is a maintenance shop where multiple mechanics work on many aircraft.
"There are certainly benefits and drawbacks to each, and they really depend on your need," said Keys Miller, business development manager at Rotorcraft Support, Inc. of Fillmore, California. "The important thing is that a helicopter owner look carefully at each to determine what works for them. For instance, a solo mechanic that comes to your hangar is going to be less expensive per hour, but may not be as responsive as an MRO [maintenance, repair, and overhaul facility]. You may have to wait for parts or ship specialty parts out for service.
"An MRO is going to have all the tooling and almost all parts so it can get you back in the air fairly quickly, but its costs will be more than an independent mechanic due to insurance, staffing, overhead, and other costs involved in operating an MRO."
Aviation regulatory agencies from the FAA to EASA put the responsibility for ensuring the aircraft is properly maintained to meet federal regulations on the aircraft owner. That said, owners can sign contracts with a maintainer to track and manage all maintenance. Short of that, failure to ensure your maintainer is properly licensed and/or signed off to perform the work can lead to action against the owner, Denomme warned.
Regardless of which option a buyer chooses, Denomme and Miller emphasize the importance of first checking regulatory ratings. For an independent mechanic, ensure that the person has a valid airframe and powerplant (A&P) aircraft maintenance license. Denomme also emphasized that there are certain inspections only mechanics with inspection authorization can perform. Helicopter owners should ensure the mechanic has that certification or, at the very least, works with someone who signs off their work in those instances.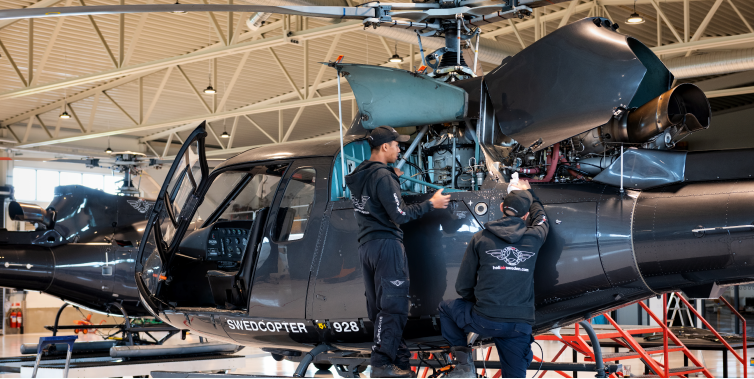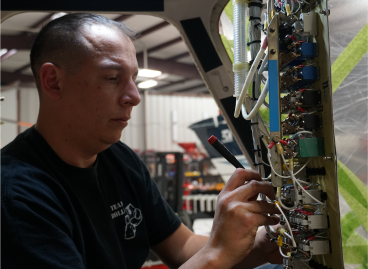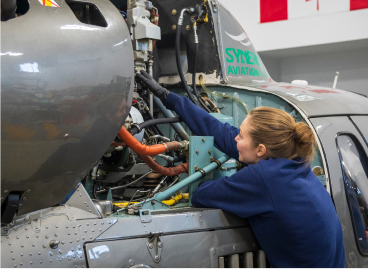 For maintenance shops, certifications such as FAA Part 145 Repair Station, and your helicopter manufacturer's authorized service center designation, definitely illustrate regulatory compliance. An FAA Repair Station is required to maintain a higher level of training and operation than a solo mechanic, and must undergo inspections to maintain its certification. Original equipment manufacturer (OEM) authorized service centers are also required to maintain a level of training on the aircraft make and model, as well as possess tooling for working on those aircraft and maintain a specified parts supply. The OEMs themselves audit the maintenance facility to ensure compliance and continued service center designation.

If you prefer to find a solo mechanic as a cost saver, in addition to confirming the mechanic's licenses, Miller recommends that owners ask about make and model experience, factory training on the make and model, possession of specific tools for maintaining your specific aircraft, and relationships with other maintenance shops nearby to perform work outside the mechanic's ability — such as avionics, inspection authorizations, etc.

"I don't want to sound at all like I am against hiring an individual mechanic," said Miller. "There are some very fine mechanics who have been working on certain aircraft their whole careers. They're really good, safe, and know their stuff. They have relationships with other shops to get parts and additional work done and, sometimes, they can be faster for some types of maintenance. Maintenance shops can get backed up. For a quick repair, a mechanic with the tools and access to parts can sometimes do the work sooner."
Insurance
Liability insurance is a very important aspect of helicopter maintenance. A maintenance facility should absolutely have liability insurance to cover not only any damage done to the aircraft while it is in possession of the facility, but also from any accident or incident that is the result of faulty maintenance.

"Authorized service centers are required to have a specific amount of insurance," explained Miller. "Do your due diligence to see what their liability insurance is. The same goes for that mechanic who operates his or her own business in a separate hangar. When a mechanic comes to your hangar, that is where it gets fuzzy. Any damage that happens in your hangar is most likely covered by your liability insurance. It is important to work with your insurance provider to ensure coverage of your mechanic's work, and how costs are covered if faulty maintenance is the cause of damage, injury, or death — if you choose to have a mechanic come to you for maintenance."
Referrals
Whether you start your search by asking around, or you find a mechanic or shop and want to know more, both Denomme and Miller emphasize getting input from those who have had their aircraft worked on by the person or business you are considering before hiring them. The OEM can also be a good source, even if you bought the helicopter used, said Miller.

"If you're going to be paying to have your helicopter maintained, you certainly want to make sure there's references and the person or shop is well known in the industry," added Denomme. "Talk to people with your make and model of aircraft. The person or organization you choose should be experienced in your aircraft and come with a recommendation."

Keys' company uses this advice when looking for mechanics to hire.

"In addition to checking their license, training, and their platform-specific experience, we check references of companies they've worked at before. This is a small industry. If asked, most people will share their honest experience with a mechanic or maintenance shop. Do your due diligence. It will take you a long way."